Interesting evening at the supermarket. We (my female best friend and I) went after some bath soap, hot dogs, dish soap, etc. - just a few things we were needing. As we were meandering through the aisles of the store, I noticed something a little out of place. One of the other patrons had some loose-fitting, rather short shorts (or maybe culottes) on. Seemed a little inappropriate for the grocery store. Anyhow, I got a bit of an awakening when she took a step or two forward. As she did, a wrinkle (fold?) appeared, and OMG! Her butt cheeks were sticking out!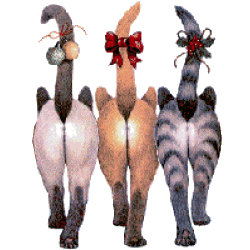 I started chuckling, and promptly told the story to my shopping companion. Laughter ensued...and of course we shared comments fueling more laughter....followed by more comments. (I thought I could eat two hot dogs, but maybe only one after seeing that.) We got into an endless cycle of laughter as we finished gathering up groceries and proceeded to the checkout counter. As we made the final turn to get in line, we saw the same lady with the butt cheeks - coming towards us. Poor thing. Time hasn't been the best to her - but she had a pair of young-looking butt cheeks! ;) Anyhow, we got the truck loaded, fired it up, and started to pull out. Uh-OH! We forgot something! You'll never believe this. We forgot hot dog............
BUNS!
(ROTFLMAOPIMP!!!)
How could
that
happen?! How could we
possibly
forget buns - after half a loaf had just been unwrapped in front of us?!
I backed back into the parking spot I just pulled out of and proceeded back into the store (LMAO the whole time with tears running down my cheeks, BTW). Went past the same young lady that just checked us out (had to tell her why all the laughter when we first went through, so she didn't think we were laughing at her), and she asked me if I forgot something.
I quietly told her, "You're

not

going to believe this! We forgot hot dog

buns!

" Now she was laughing, and commented, "You've made my day!" She couldn't help laughing any more than I could when I bought the buns through her register.